Those that have been following my journey over the last couple of years have to come to know me as Biodiode. I rarely posted photographs of myself and, until recently, never appeared in my YouTube tutorial videos. Rebranding has, therefore, been a long thought out process but not without some stumbling blocks that I have had to overcome.  
Why Rebrand?  
I like composing music, a lot, and also enjoy working with media companies and helping others develop their projects. The name Biodiode, however, started to become a little bit of an issue. For starters, clients did not know quite who they were dealing with, was it an individual, a company or an alien from outer space? Okay, maybe not that last one, but you get a general idea. There were also issues with how to spell my name when it was spoken to them. I had friends and colleagues calling me biodude (you know who you are), bidide e.t.c. Talk about an identity crisis. 
Other problems included giving people my e-mail address. Not over privacy concerns, but the fact people had difficulty in spelling biodiode@biodiode.com. At first, I thought nothing of it, but the more this went on, the more I thought there was a problem.  
Issues of Rebranding?  
There have been some issues with rebranding. The first was to ensure my actual given birth name had not been used by someone else. This was fairly easy to do using a website called namechk.com. This is a really useful website. Just insert the name you wish to use and it will search all social media accounts and domain names to see if it is available. If it is taken, you can then play around until you come up with a name that is available.  
I was very lucky and fortunate to find that my given birth name was available for the vast majority of platforms. The important part was getting hold of a .com domain name using my given birth name.  
Naturally, the vast majority of social media platforms had already been taken, but I was not too interested in being called Adrian Earnshaw. This is because it didn't say what I actually did. Therefore, for social media, I use the name of Adrian Earnshaw Music or Earnshaw Music if the number of characters is restricted. This not only gives people your name but also an idea of what you actually do and what stories you will be posting to your socials.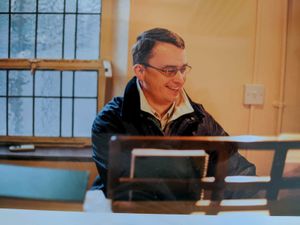 The obstacle I need to get over now was Facebook. That has been a right royal pain, considering Instagram was a breeze - go figure. The problem with Facebook is when you change your name wholesale from Biodiode - Electronic Music to Adrian Earnshaw Music, they see this as deception and block the name change. I have sent in an appeal but I am not holding my breath on that one. 
After much delay, I decided to close the old page and set up a brand new one after notifying my existing followers that I had moved. This worked nicely and I didn't lose any followers. 
Has it been worth it?  
This is still too early to tell just yet. However, let me answer the question with another question. Would you entrust your new project to  someone using a name that sounds alien (Biodiode) or from someone who uses their given birth name? I know what I would choose given the option.  
It has only been a couple of months since the whole rebrand started. However, the number of followers on my social media channels has increased. Normally, I get say 5 - 10 additional followers on Twitter daily. After one day I can more than double that number and I have not done anything different in my approach to social media.  
You see the whole thing is about relating to an individual. If you don't know what they look like or have never seen behind the scenes, there is little trust in the brand. After all, this is human nature.  
I am considering whether to design a new logo or let my face be the identity for this new brand. What do you think? leave a comment below as to your thoughts. 
Follow up  
I will be doing a follow-up article in the next few months to let you all know how it has gone.  
In the meantime, I look forward to working with you and until next time happy music-making.